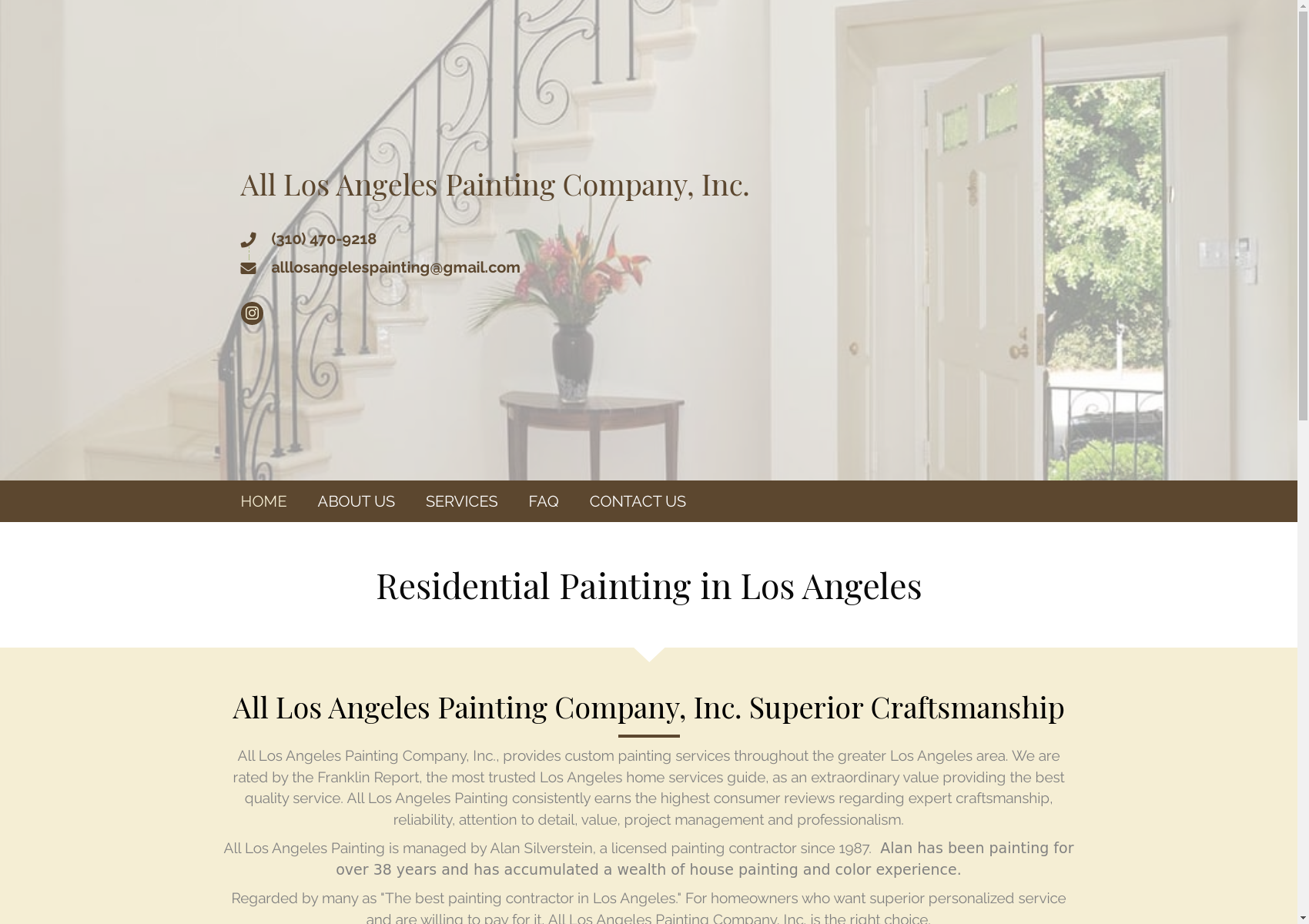 All Los Angeles Painting Company
Verified Pro
All Los Angeles Painting Company
Los Angeles
Verified Pro
About All Los Angeles Painting Company
All Los Angeles Painting, Inc. provides custom house painting services. Specialties: Interior Painting, Exterior Painting, Painter for a Day, Custom House Painting, Furniture refinishing, Kitchen Cabinet Painting, Wood Finishing, Vintage Home Restoration, Natural and low VOC Paints, Estate Maintenance. Custom, licensed and insured, residential painting contractor. Large painting crew is available for short time frame jobs. Painting crew by the day or week available.
Locations
907 Westwood Blvd #397, Los Angeles, CA 90024, United States
Business Hours
Mon - Thu

7:00 AM - 5:00 PM

Fri

7:00 AM - 3:30 PM
3 Reviews for All Los Angeles Painting Company
Halsey R.
June 1, 2022
I had to have my house painted at the last minute and called to see if Alan could come the next day. Alan did a video walkthrough of my house and because he knew my urgency pulled together two of his best guys to help me repaint my house over the next four days. This level of service is somewhat normal when a business is trying to get some work, sure. But Alan went so much further. He came to my house and did a thorough walkthrough with me, telling me which sections of the house he thought were important to repaint/touch-up for the upcoming house listing, and which could be ignored. He was incredibly helpful in giving us advice as this was our first home sale and were just winging it. The two guys he got us were awesome as well, working hard the entire time they were there, and making the place look impeccable by the time they were done. Really respectful guys and trustworthy. I'd recommend Alan and his team any day.

Abby R.
July 7, 2021
I used All LA Painting to paint my bedroom. Alan responded to my initial inquiry very quickly to get details on my job and give me a custom quote. Alan was prompt and clear in his communications from start to finish--great sense of humor too :) He got me on the schedule in a very timely manner, and his painters were efficient, professional, and went above and beyond to do an awesome job. Very pleased with the whole process and outcome!

Jason P.
March 12, 2020
As a realtor, I spend a lot of time dealing with contractors. And can usually tell in the first 5 minutes of a call whether I'm dealing with someone knowledgeable and reliable. All Los Angeles Painting is both. My client needed a ceiling repair. After calling at least 5 different contractors, I found that their price was better than most and the lowest for any licensed contractor. Based on our calls about the details of the work, their responsiveness, and the price estimate, it was an easy decision. Scheduling was easy and the job was completed in one day. I would recommend giving them a call. And would use them for future work.