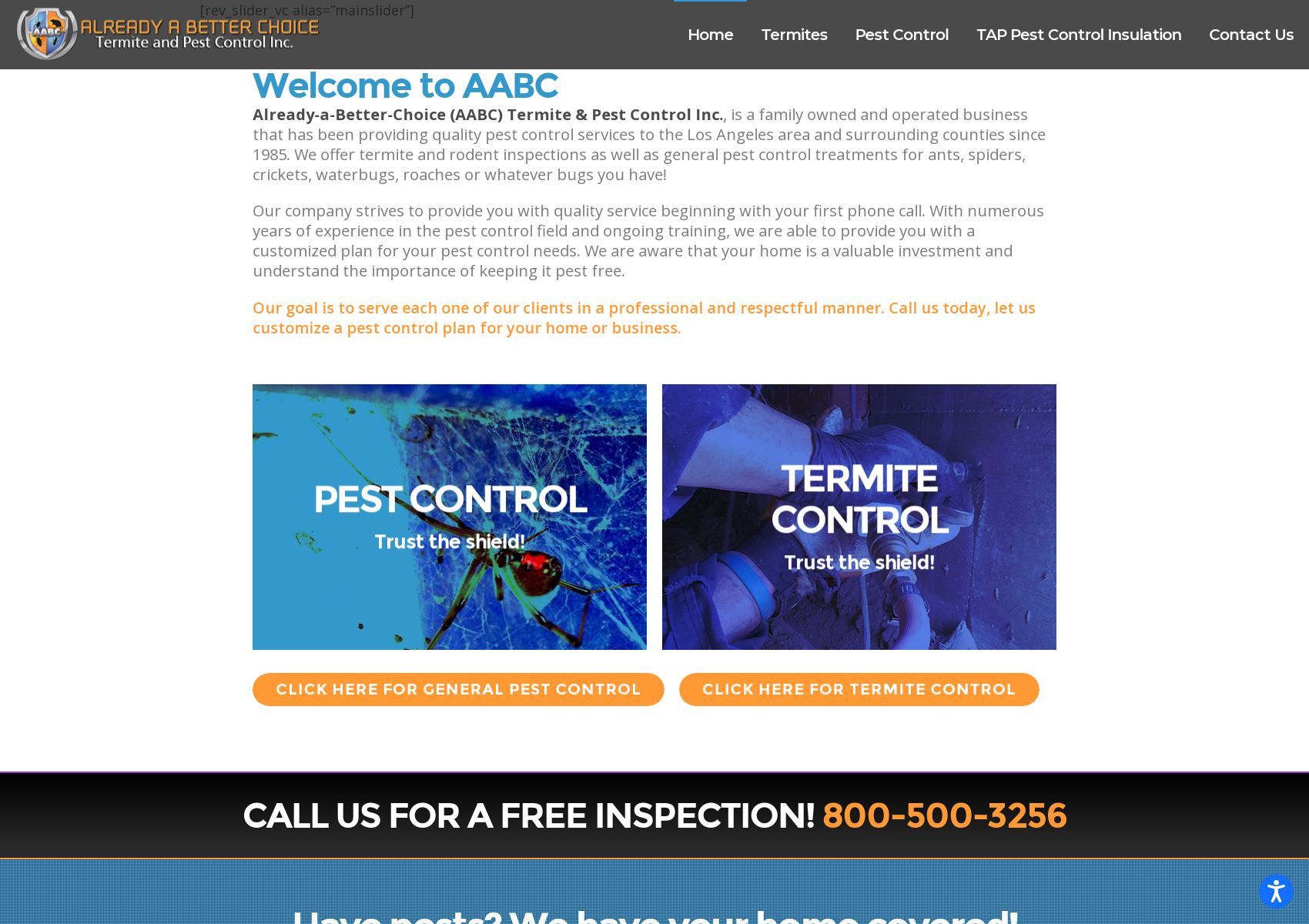 Already A Better Choice Termite & Pest Control
Verified Pro
Already A Better Choice Termite & Pest Control
Los Angeles
Verified Pro
About Already A Better Choice Termite & Pest Control
Finally, a termite company you can depend on! Call us to schedule your appointment today. Services Include: Rat/Mice/Rodent Control or Exclusion, Termite Control, TAP Insulation (these services require an initial inspection). And general pest control. Please call for availability. We are a family owned and operated company that specializes in termite fumigation, local or spot treatment for termites, rodent exclusions (1 YEAR guarantee), general pest control & TAP Insulation. (Ask about our 10 Year subterranean termite treatment guarantee). We offer thorough termite inspections with an individualized business plan for your home or business. Our technicians are licensed, knowledgeable, caring and professional. Minimal fee for Escrow Inspections and dwellings with more than 4 units. We are very aware that our business would not be where it is today without our clients, which is why we go above and beyond to keep each and every one of our clients happy.
Locations
10205 Valley Blvd Unit A El Monte, CA 91731
Business Hours
Mon - Fri

9:00 AM - 5:00 PM

Sat

9:00 AM - 11:00 AM
3 Reviews for Already A Better Choice Termite & Pest Control

Alex P.
February 9, 2022
I reached out to AACT&PC for an assesment of my property. The office team was professional and was able to schedule an inspection 2 weeks out. Josh was the inspector that arrived to my property, he was friendly, knowledgeable, and professional. Since I had purchased the property recently he referred me to the company who did the original inspection as the cost should be placed on them. He was nice enough to generate a report of his findings and I will most definitely use him when I am able to get my neighbors to tent.

Justin H.
February 11, 2022
I've used this service now for a long while and honestly Always a Better Choice Pest control is the best out there. I always ask for John Kim too, he's just my favorite technician hands down, always on time, easy to work with, and courteous. I totally recommend this pest control as they're affordable and just easy to work with.

Julie Y.
March 10, 2022
I had Already a Better Choice tent my house for termites and also had a separate appointment for subterranean termites treatment. They were punctual and knowledgeable, and the whole process was very easy thanks to Raul and the rest of the staff. They sent clear information on what to expect and how to prepare the house for the process, and although I had to make a schedule change, they were able to change the days for me easily. Thanks for taking care of my home!