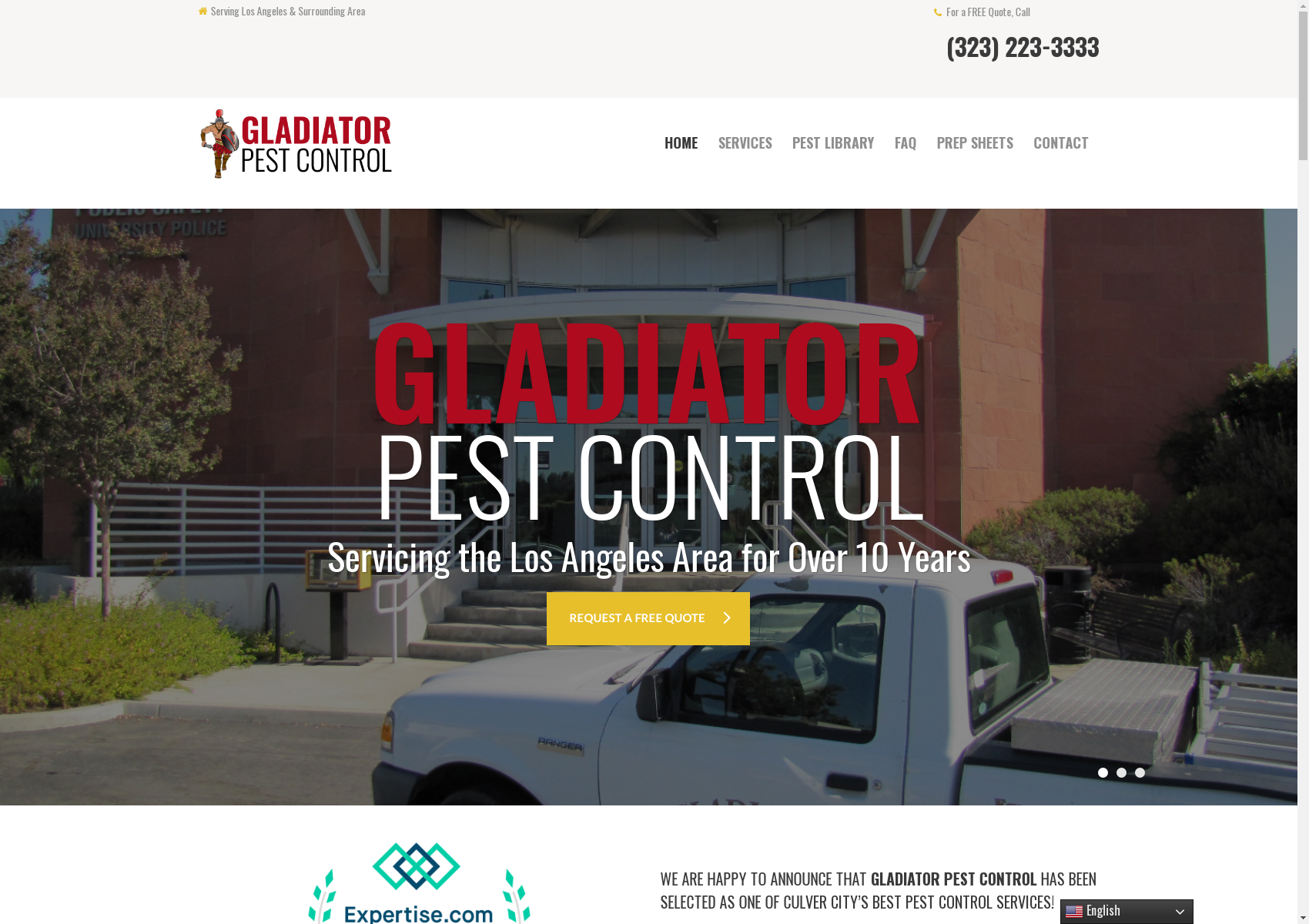 Gladiator Pest Control
Verified Pro
Gladiator Pest Control
Los Angeles
Verified Pro
About Gladiator Pest Control
Gladiator Pest Control is locally owned and has been in operation in the Greater Los Angeles area since 2008. Our technicians are trained and licensed in various aspects of the Pest Control Industry, with over 40 Years of experience. We like to specialize in Bed-Bug treatments at a reasonable cost. Although we also offer a variety of other pest control services at the lowest cost to our customers. Pest control maintenance is also an option on a monthly, bi-monthly, or quarterly basis for your home or business needs! When using our company, you can be assured that you are receiving quality and professional service at a price that can't be beat. Reach out to our team today!
Locations
4507 Valley Blvd #203a, Los Angeles, CA 90032, United States
Business Hours
Mon - Fri

8:00 AM - 5:00 PM
3 Reviews for Gladiator Pest Control
I got recommended Gladiator by my friend in El Sereno who has been using Gladiator for years for their annual ant extermination spray! So I called them for my cricket problem - I was seeing crickets in my downstairs entry way and hear them in my kitchen. At night, I could hear the crickets and had no idea where they were coming from. I called Gladiator and they were really friendly and efficient on the phone. They thanked me for choosing them and were happy to have my business! Once they sent an inspector to my house, they were fast and clear. They told me that for an indoor spray, we would have to leave the house for a few hours, so I opted for the outdoor spray only! Gladiator told us that if the outdoor spray didn't work after 2 weeks, they could come spray indoors! Definitely would recommend using Gladiator in the future!

Noreen B.
October 4, 2021
They came by today to help check my business for a rat problem that we have been having. It was just a consultation, but they were really knowledgeable. What I like most is that you can tell that the company actually care about the people that they serve. They are also very thorough and do all the checks that they need to make recommendations to you. Unfortunately, it is not a problem that I was able to finish right away because of the way the building is set up. We are going to have to get everyone in the building on board. However, it's nice to know that I have a gladiator in my phone book for when we are able to take care of the issue. I also contacted them for my house because they're really friendly and knowledgeable. George was the best. Very understanding and funny.

Sierra W.
Called about some critters we were hearing inside the walls of our house. Gross! Andrea was super nice on the phone and gave us a 2 hour appointment window. The inspector arrived 10 mins early, which is great! I'm used to people arriving 30 mins AFTER the window is over. He found the entry point, which was really small and difficult to see. He didn't charge us to patch it or trap, he just gave us instructions on how we could do it ourselves, which saved us a good deal of money. Really appreciate the timeliness, professionalism, and honesty!