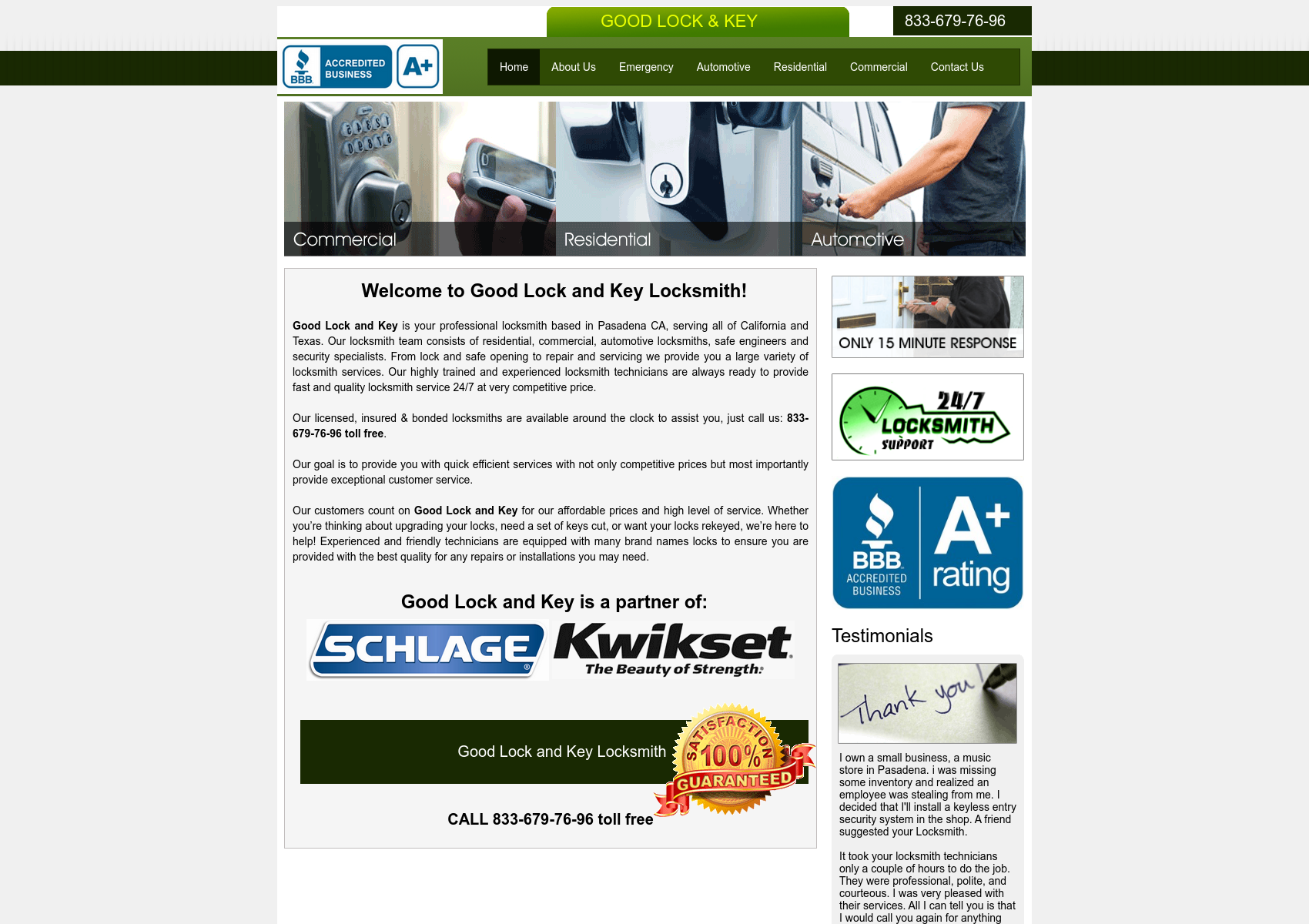 Good Lock & Key
Verified Pro
Business Hours
Monday - Saturday
2667 E Colorado Blvd A, Pasadena, CA 91107, United States
www.goodlockkey.com
Good Lock & Key
Los Angeles
Verified Pro
About Good Lock & Key
Good Lock and Key locksmiths provide full services support for all residential, commercial and automobile locksmith needs at affordable rates. Our goal is to provide you with quick efficient services with not only competitive prices but most importantly provide exceptional customer service. Our licensed, insured & bonded locksmiths are available around the clock to assist you, just call us at 626-396-1111.
Locations
2667 E Colorado Blvd A, Pasadena, CA 91107, United States
Business Hours
Mon - Fri

9:00 AM - 6:00 PM

Sat

9:00 AM - 5:00 PM

Sun

Closed
3 Reviews for Good Lock & Key

Robert T.
January 14, 2022
They were the first to respond to "quote request" and arrived onsite within a reasonable time. The locksmith was extremely friendly and professional. I highly recommend this company.

Megan L.
January 3, 2022
Someone tried to break into my car right before Christmas and broke the key hole on my car. I went on yelp and got a few quotes and found their price to be the best price. Milad the son was super responsive and had ordered the parts for me right away. I came in today and his dad was here to help me install it. He got it installed and then moved over to show me that each key locks and unlock like the way it should. He got me in and out in 15 minutes. He was super nice and would definitely recommend them if anyone every tries to break the lock on your car door.

Jas D.
October 1, 2021
Turned up on time. Was covid safe. Was pleasant and professional. His rate was competitive as well. Thank you.