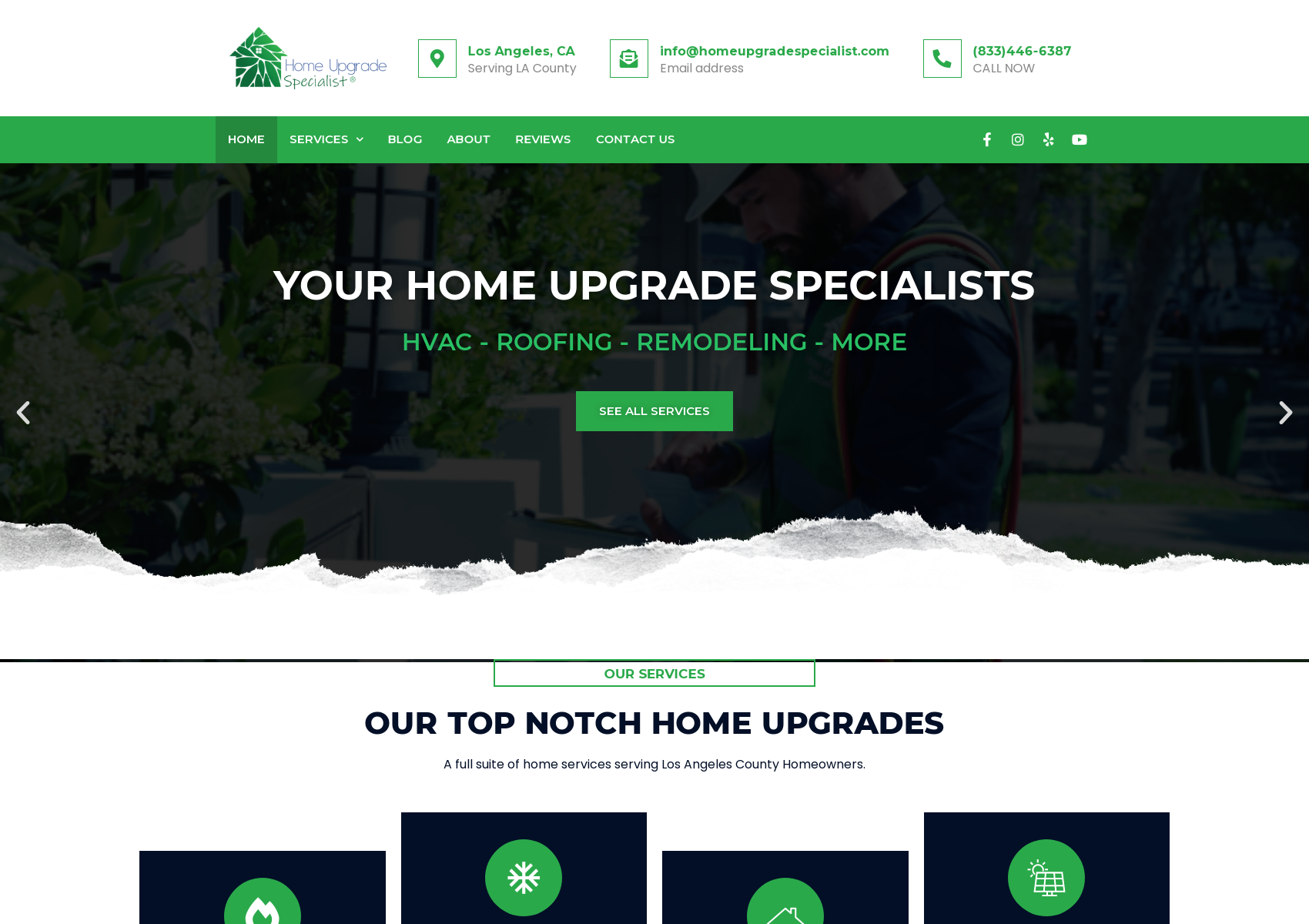 Home Upgrade Specialist
Verified Pro
Home Upgrade Specialist
Los Angeles
Verified Pro
About Home Upgrade Specialist
Home Upgrade Specialist ® is a professional team when it comes to smarter, more efficient living. From HVAC installation, repair and replacement alongside, Roof replacement, Solar panels installation, high efficiency windows, exterior paintwork, chemical-free insulation and other vital solutions for maximizing your quality of life, we use our fifteen years of experience to make a huge difference to your energy usage and quality of life. Our Trades: * HVAC Installation / Replacement / Repair / Tuneup * Roof Installation / Replacement * Windows Installation / Replacement * Exterior paint * Insulation * Air Duct Replacement * Solar Installation – Save money on your utility bills! * Garage Conversion / ADU Rebates and financing are available. Book you free Estimate today! Call now: 833-446-6387 Home Upgrade Specialist Highlights: * Certified Technicians * Bonded, Licensed & Insured * Top-quality services * 5 Star reviews company * Trusted for 15 Years
Locations
733 N La Brea Ave #200, Los Angeles, CA 90038, United States
Business Hours
Mon - Fri

8:00 AM - 6:00 PM

Sun

8:00 AM - 6:00 PM
3 Reviews for Home Upgrade Specialist

Rabee M.
February 27, 2022
We purchased a new house in West Hollywood and we needed to do a complete remodeling. Kitchen, bathroom,flooring and New heating and air conditioning system. We interview 6 companies and we choose Home Upgrade Specialist. Nitai was a great professional man to work with. They helped us getting rebate ($6,600!!!) from the utilities company. The kitchen and bathrooms looks beautiful! The whole process was smooth and super professional. Even though the price was not the cheapest we don't regret making this choice. We received 3D design prior to starting work and its matches exactly like the design! We convert our HVAC system to heat pump and upgrade our electrical panel (check Tech Clean CA rebate program we got through them the $6,600 rebate) Thank you Home Upgrade specialist and thank you Nitai and the team! (Aden, Melrose and Amber)

Joe R.
June 15, 2021
We are so happy with our decision to use Home Upgrade Specialist (HUS) for our HVAC install. We live in a 2-story historic craftsman that has never been gutted (so, lathe & plaster, no natural channels for running duct, and a desire to keep it's historic integrity). We did already have central heating on the first floor through giant iron floor vents, but nothing on the 2nd floor, and no insulation. With new babies in the house, that was becoming unbearable with the recent heat waves we had. First, we had to upgrade our electric panel to support HVAC. HUS handled that and coordinated all the inspections and permits. Second, the HVAC. Given the magnitude of this, we certainly took our time making sure we were investing in what was best for us and the house. There was never any pressure from Simon and team to hurry up. They were always very up front with costs and estimates, and when I ran them by my contractor friends, try friends would say "yeah, sounds about right given what you have". The easiest solution would have been to replace the 1st floor central and do mini-splits upstairs, but we were able to get creative and find channels in the roof chases to run duct. So we went for it and did full central HVAC - 2 separate systems. The cost wasn't much more than going for the mini-split option. Once we were ready to go forward and had all our questions answered, the HUS team was ready to go on our schedule. A truck arrived on a Monday morning with all the equipment, and by Thursday, we had ice cold AC. FINALLY, right before we went forward with install, we asked if it would be possible to move the floor vents to the wall (which I didn't think were think enough to support ducts and vents). Simon's foreman pod a visit and said it would be no problem at all and they could send a hardwood floor guy out after to fix the holes left in our floor. So, in the end, this was a 3 phase job: 1. Upgrade electrical panel 2. Install dual zone HVAC system 3. Relocate floor vents and patch hardwood floor And Simon and his team at Home Upgrade Specialist handled all of it (we separated steps 1 and 2 by a few months due to COVID). It was a large job, but Simon and his team handled it with ease and made sure to take consideration for our old home with its nuances that weren't meant for 21st century luxuries. I would highly highly recommend Home Upgrade Specialists for HVAC installs - and particularly if you're wondering if it's possible in an old craftsman without compromising the character or charm of your home. Edit on 6/30/2021 - The moment of truth has arrived with our new LADWP bill that includes a full 2-month period using our new system. It hardly made a dent! Overall, our May/June bill was $100 more than the March/April bill and it's actually $30 LESS than our same bill from 2020 when we were running portable units inside our home. So. wow wow wow wow WOW!

Sunil H.
May 14, 2021
It's rare to find a vendor that cares so deeply about providing quality service and customer experience at every touch point. HUS is one of those rare finds; not only was the installation of my rooftop HVAC unit a seamless and stress-free process, but it was honestly one of the best values I could find anywhere in Los Angeles. Of the several quotes I received, HUS was the most thorough in providing me with the right solution for my needs. They offered me ways to save on expenses and cost that other vendors did not even think to suggest. I felt that HUS was always transparent; I worked closely with Simon - the manager/owner - who cares deeply about his customers, and will go to great lengths to ensure HUS' work is to the customer's satisfaction. I feel fully confident referring HUS for HVAC installations, maintenance, and related services, and I will certainly be working with them in the future for my HVAC needs.