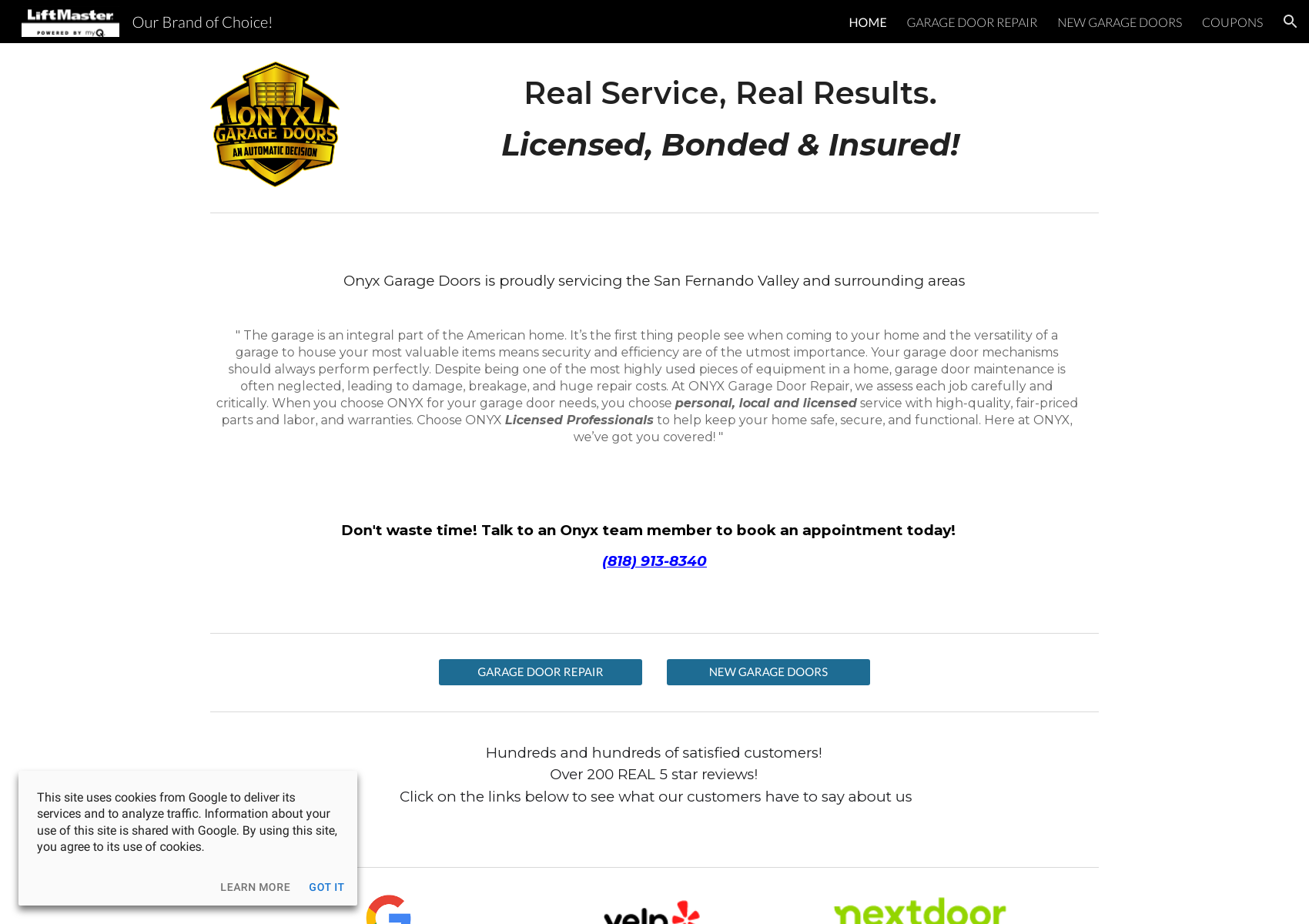 ONYX Garage Doors
Verified Pro
ONYX Garage Doors
Los Angeles
Verified Pro
About ONYX Garage Doors
5 Star Business! I specializes in top notch customer service and garage doors repair and installations. I provide a wide range of services such as broken spring replacement, cable repair, hinge repair, roller repair, opener installation and more! personalized and locale garage doors service in San Fernando Valley, Los Angeles area. Please feel free to contact me any day of the week!
Locations
Winnetka Serving Glendale, CA Area
Business Hours
Mon - Thu

8:00 AM - 10:00 PM

Fri

8:00 AM - 06:00 PM

Sat

Closed

Sun

8:00 AM - 10:00 PM
3 Reviews for ONYX Garage Doors

Jc A.
September 24, 2021
My garage door battery died, then, as if that wasn't enough, while opening it manually, the cables went all cattywompus and it can't off the track.! The door was rendered a no go. My car, and I, were housebound. Yikes! There were so many options for service to research. And I couldn't be happier that I chose to call Onyx. I called first thing this morning and spoke with Moses. He arrived this afternoon right on time. Assessed the situation and gave me an estimate first, for the needed repairs and the new battery. It was very reasonable. And in just about an hour, the job was done. And I can honestly say, without exaggeration that my garage door now works better, more smoothly and quietly than it ever had before. Even when it was new!! I'm very, very pleased. Thank you Moses, for your courtesy, professionalism, efficiency and quality workmanship. (Bonus points for navigating my terribly messy garage so graciously!) Rest assured, I will absolutely recommend Onyx whenever I can. And will call again myself for any future garage door needs.

Asia E.
March 16, 2022
Just had our garage door installed and we are thrilled! Our door looks great and I love how I can now use a remote to close it. We initially chose Onyx Garage doors because they're competitively priced, turns out, it was the best choice for us. Moses was responsive, prompt, and professional. He addressed all of our questions and concerns, and took great care of our family. Highly recommend!

Robert M.
March 15, 2022
Moses is very knowledgeable in his trade, he did a terrific job repairing our garage doors and priced very fairly. I will recommend him to friends