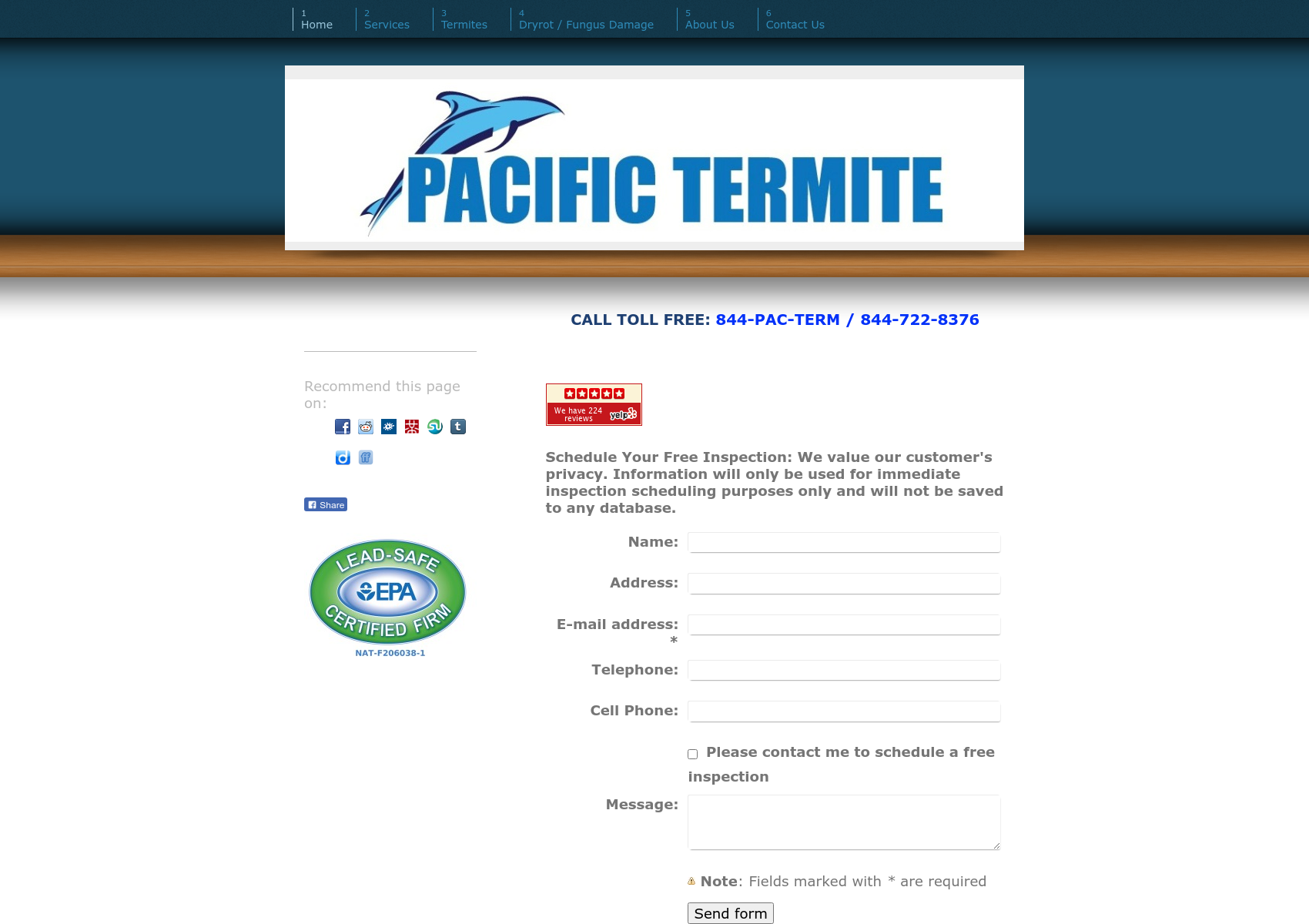 Pacific Termite
Verified Pro
Pacific Termite
Los Angeles
Verified Pro
About Pacific Termite
At Pacific Termite, we have over 70 years of combined experience in termite control and wood repairs. We provide high quality service at wallet friendly prices. We do not offer regular pest control services.
Locations
2846 W 8th St Ste 101 Los Angeles, CA 90005
Business Hours
Mon - Sat

9:00 AM - 5:00 PM
3 Reviews for Pacific Termite

Kelley L.
October 4, 2021
We found termite droppings and suspected that we needed to have our house tented since spot treating from our previous termite company didn't work. I called four companies I found on Yelp and scheduled termite inspections in April 2021. Because we had a clay title roof, we were also concerned about the impact of tenting and broken roof tiles. The first company we met with was Pacific Termite and we eventually selected them to do the work. Kevin Kim was the inspector and he arrived promptly at the scheduled time wearing a mask. He spent 1.5 hours inspecting our two-story house and found dry wood termite infestation in our attic space and our patio wood beams and recommended tenting. He also noticed subterranean termite wings in a storage space in the garage. Pacific Termite provided me with a Wood Destroying Pests and Organisms Inspection Report. The second termite inspector only found dry wood termites and provided a 1-page estimate for tenting. The third termite inspector found a subterranean termite infestation in the garage storage space and provided an Inspection Report that was more expansive than Pacific Termite for tenting and treating subterranean termites. The fourth termite inspector didn't inspect the garage storage space and only provided an estimate for spot treating dry wood termites. We called Pacific Termite asked for Kevin to come back to re-inspect our garage storage space for subterranean termites. He confirmed that we had subterranean termites and Pacific Termite provided us with a revised Inspection Report. We also had several phone conversations with Scott Kim, the owner, to answer questions about the subterranean termite treatment and the tenting process and the possibility of broken clay tiles. We decided to have Pacific Termite do the work in two phases. In May 2021, Mateo and Domingo completed the subterranean termite repair work. They arrived promptly at the scheduled time and did a great job of getting rid of the subterranean termites. Pacific Termite outsources the fumigation/tenting to SBM Fumigation. We scheduled the tenting for July 2021 because we had a lot of prep work to do before the actual tenting. We prepared a 5-page spreadsheet of all the tasks that needed to be done prior to tenting (i.e., pruning plants, moving mulch away from house, moving indoor and outdoor potted plants, removing valuables, scheduling cat for boarding, hotel reservations, packing up food items, etc.). On the first day of tenting, the SBM Fumigation workers arrived late in the afternoon as our house was the 4th house to tent. It took them about 2.5 hours to completely tent the house and start the fumigation. On the third day, the SBM Fumigation workers arrived at 9 am to remove the tents. They worked fast to remove the tents; however, the workers could have slowed down and been more careful about removing the tents. They trampled some of the plants, damaged three wood patio beams, left carpet remnants around the yard, and other miscellaneous debris. They told us that there were over 50 broken tiles from walking on the roof with the heavy tents, but they ended up breaking about 60-70 tiles on our roof. I had to hire a roofing company to replace the broken clay tiles. Overall, I rate Pacific Termite 5 stars for 1) responsiveness from Scott Kim, the owner for answering our questions; 2) fabulous customer service from Kevin Kim, the inspector and Esther, Natalie and Stacy, the office staff; and 3) great subterranean termite work from Mateo and Domingo. However, I rate SBM Fumigation 3 stars for the fumigation/tenting work.

Noel L.
December 3, 2021
After scheduling inspections with two other termite companies, one of whom immediately said I needed to tent, I called Pacific Termite. Steve came out and was professional, thorough and knowledgeable. He was clear about what he recommended needed to be done and what didn't need to be done. He gave me an honest, professional assessment. It's reassuring when you come across a company with integrity like this. I will be having the work done by this company. And they are family owned.

Firooz G.
December 1, 2021
Excellent job great communication and they do professional job . Highly recommend them.