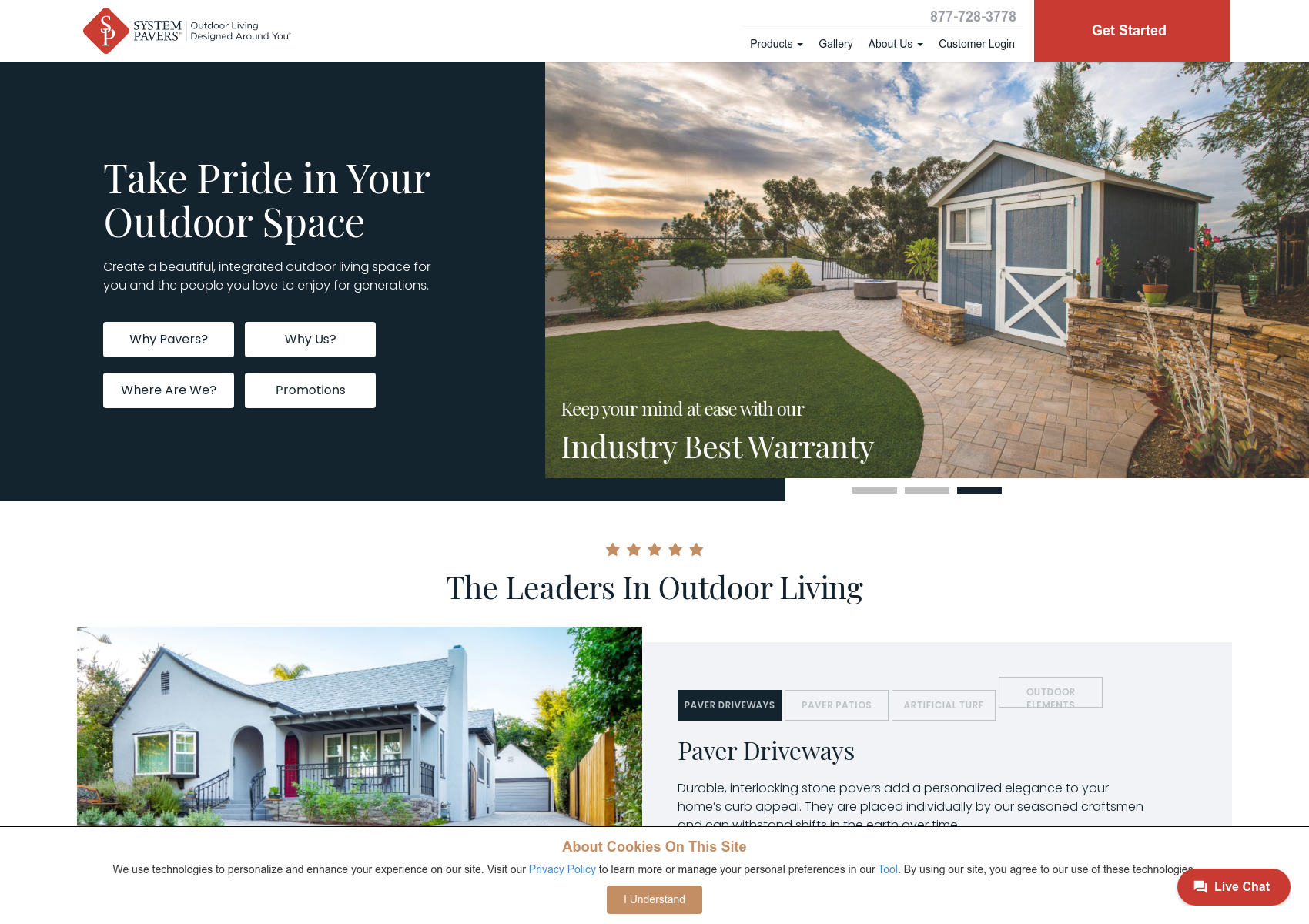 System Pavers
Verified Pro
Business Hours
Monday - Sunday
1570 Brookhollow Dr, Santa Ana, CA 92705, United States
systempavers.com
Contact
Cali D.
1570 Brookhollow Dr, Santa Ana, CA 92705, United States
systempavers.com
System Pavers
Los Angeles
Verified Pro
About System Pavers
Serving homeowners in Pasadena, Burbank and surrounding areas, we offer a wide variety of personalized outdoor living products including driveway, patio and walkway pavers, outdoor kitchens, artificial turf lawns, energy efficient landscape lighting, fire elements, water features, outdoor coverings and more.
Locations
1570 Brookhollow Dr, Santa Ana, CA 92705, United States
Business Hours
Mon - Sat

7:00 AM - 7:00 PM

Sun

8:00 AM - 5:00 PM
3 Reviews for System Pavers

Bob T.
January 5, 2022
We recently hired System Pavers to re-do our backyard. They finished everything (paving, drains, turf) in less time than scheduled. Excellent work. Jose Serrano was the project manager and did a stellar job of staying on top of the details. Would recommend them highly to anyone interested in having paving done.

Karen M.
September 23, 2021
My husband and I could not be more thrilled with the outcome of the project completed at our home. We recently had our entire driveway redone within a week. We had the pleasure of working with Randall (Program Manager/ Designer), Israel Zepeda (Project Supervisor)and his crew. Everyone was very responsive and communicated how the project was coming along every step of the way. Even despite some hurdles (external factors out of their control), they were able to effectively get the job done right. You will not be disappointed, these guys are professionals and know exactly what they're doing. We will proudly recommend them to everyone!

Alexandra S.
September 27, 2021
5 star service from beginning to end. We reached out on Yelp and were called immediately to make an appointment. Ryan stayed at our home nearly 3 hours during the quote process, designing, planning, and giving us all the details of what would be done. The crew started about 2 weeks after that and finished before scheduled. The crew was amazing and clean. Jose the project manager checked in with them consistently to ensure everything was going as planned and to our specifications while checking with us every step of the way through text/call. Our yard was a blank canvas and now it looks amazing. We cannot recommend System Pavers enough and a bunch of our neighbors are going with them as well because of our great experience.