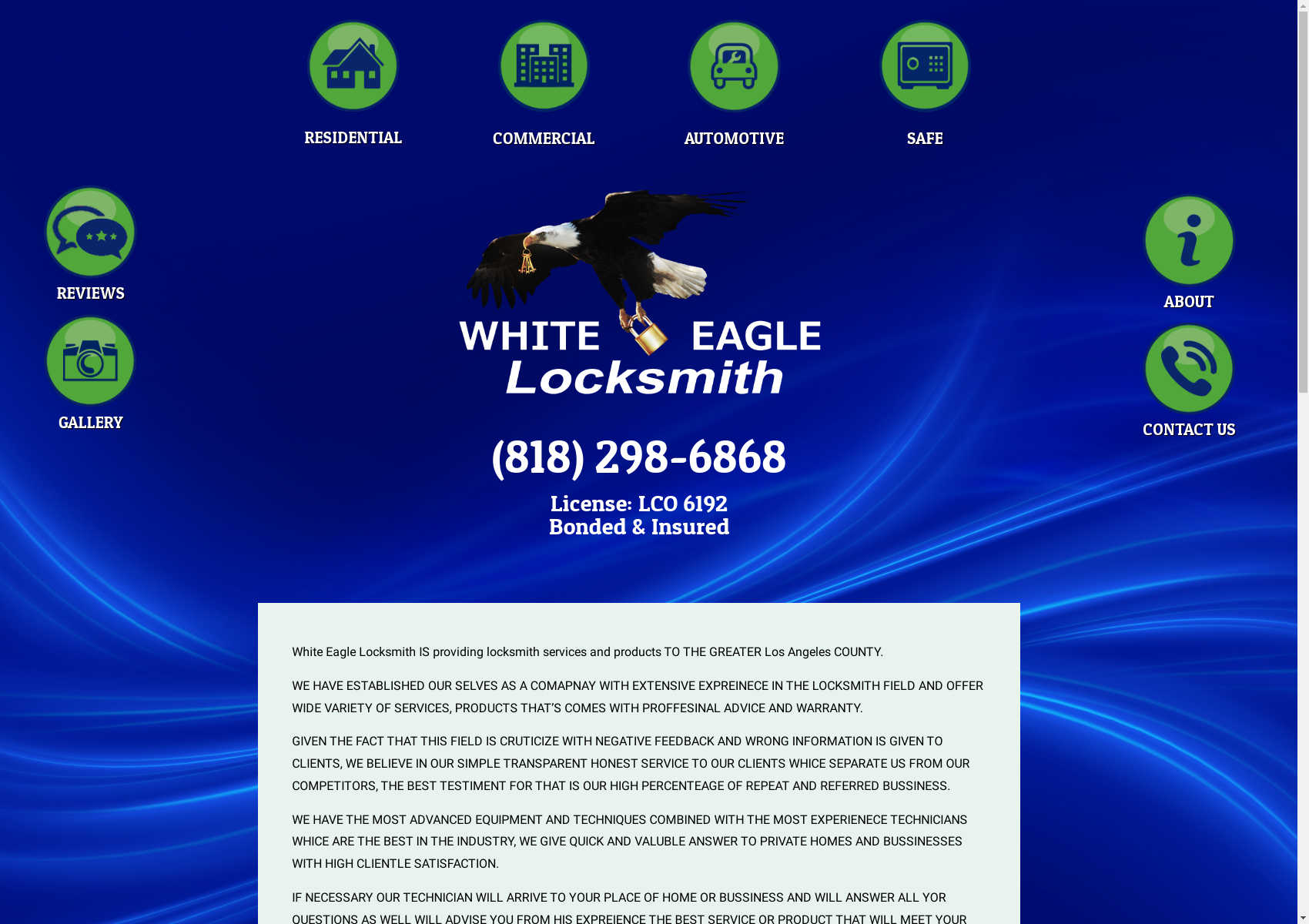 White Eagle Locksmith
Verified Pro
White Eagle Locksmith
Los Angeles
Verified Pro
About White Eagle Locksmith
You deserve the most well-qualified locksmith in Sherman Oaks, CA, so be sure to dial (818) 298-6868 today and speak with White Eagle Locksmith. Here at our professional locksmith company, we offer a wide range of locksmith services including lockout, rekry, emergency services, electronic lock access control and much more. Our commercial locksmith handles expert installation of security door locks, high security keys and locks, as well as padlock replacement. When trying to find a mobile locksmith, White Eagle Locksmith is the company to call. Our auto locksmith will have you back in your car in no time! Our locksmiths also provide quality new keys and re-keying services. We offer our home locksmith service in Sherman oaks, CA, North Hollywood, CA, Encino, CA, Studio City, CA, Beverly Hills, CA Burbank, CA, Glendel, CA, West Hollywood,CA to handle your re-keying needs after you purchase a new home, or offer key replacement if you have lost your existing key set. Need duplicate keys made? Just give us a call our and mobile locksmith will come to you to ensure all your new keys work right, the first time…
Services
Locations
5510 Sepulveda Blvd, Sherman Oaks, CA 91411, United States
Business Hours
Mon - Thu

Open 24 Hours

Fri

12:00 AM - 4:00 PM

Sat

Closed

Sun

8:30 AM - 12:00 AM (Next day)
3 Reviews for White Eagle Locksmith

Max L.
November 12, 2021
Sam at White Eagle is absolutely amazing. He is knowledgeable, kind, courteous, and does excellent work at a fair price. He is trustworthy, and does wonderful work both with new installations, and also adapting existing doors and windows to our family's evolving needs. White Eagle is the only locksmith I will ever use, and you would be wise to call him!

Scott N.
March 9, 2022
Sam came through when I needed an unusual lock for a property I was trying to sell. He stopped by the job site the same day and the part arrived a few days later. The trust he instilled in me to make the payment after the job was completed was extremely appreciated. He made doing business, easy. He's also very nice, which is always a plus! I'd definitely use him again and would recommend him to anyone in need of a locksmith. He's awesome! Thanks again, Sam!

Matthew Y.
February 14, 2022
Sam was one of the fastest most reliable locksmith ever. We called him and he came the same day. I told him to come at 12 pm but there was an issue. He had an appointment at 1pm and told me he would come back to help me at 2:30pm. He was ON TIME! 10/10 would call and use his services again. BTW, he also had a wonderful smile!