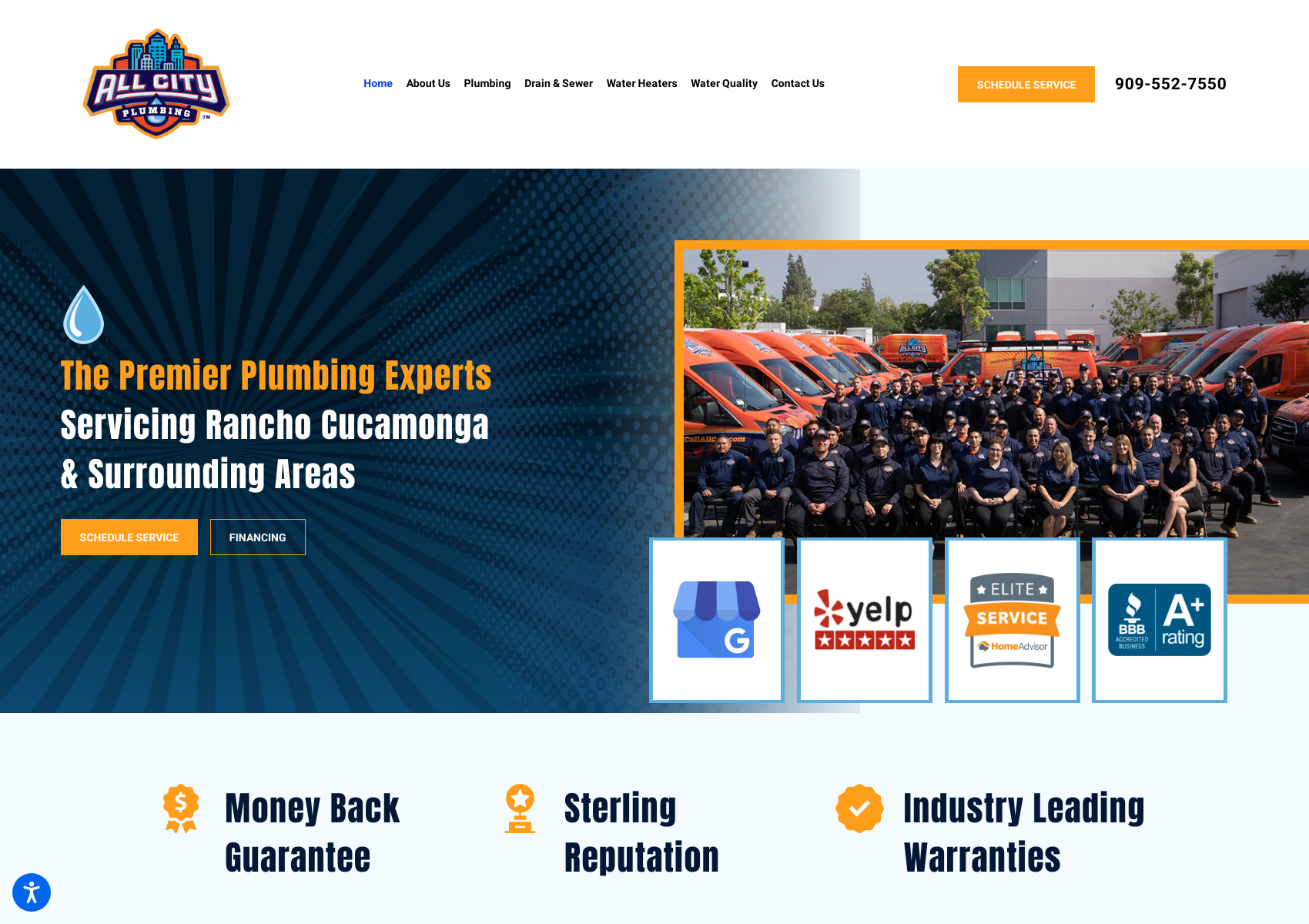 All City Plumbing
Verified Pro
All City Plumbing
Los Angeles
Verified Pro
About All City Plumbing
All City Plumbing specializes in quality drain cleaning. No matter how tough the clog, we can get it cleared away using the right tools and equipment. Your pipes stay safe throughout the process. We do not use harmful chemical cleaners that will degrade your pipes and the environment–only safe, trusted solutions!
History
Established in 2009.
ACP was created to deliver exceptional service with the highest quality of craftsmanship. We guarantee you will be happy with our services in that we offer a money back guarantee. Our technicians are regarded by their peers to be some of the best in the industry. Our service experts are continuously trained. There isn't a plumbing problem we can't solve. We have the experience, knowledge and focus to solve any problem you may have. Give us a call today and let us earn your confidence.
Locations
9447 London Way #102, Rancho Cucamonga, CA 91730, United States
Business Hours
Mon - Sun

7:00 AM - 8:00 PM
3 Reviews for All City Plumbing

Dom C.
The best plumbing service ever. My neighbor referred this company to me when we had a leak from the bathroom upstairs down to the garage a few weeks ago. They came right away and diagnosed the problem...did an awesome job. Came back a week later and replaced our toilet's angle valve.

Chris G.
I dread having to call a plumber because it seems almost inevitable that you aren't going to get a direct answer or solution to your problem. This is our second time using All City Plumbing and I'm delighted that in both instances the technicians exceeded all expectations. They completed the work as if it were their own home and plumbing without doing the gambit of trying to get as much money out of us as possible. Ivan D. went above and beyond on our latest call having to replace a leaking trap under our kitchen sink and clear a blockage in the drain line. Past contractors and other plumbers had made a mess of it and he meticulously rebuilt it. He took the time to cleanup the work area leaving it cleaner than it was when he arrived. All City has secured their spot as our go-to for future plumbing needs.

Janel E.
Such a great experience from All City! From scheduling the estimte to getting repairs done. I had the pleasure of meeting Antonio....him and his apprentice were both very professional, quick, and clean! They did a fantastic job and made the process very painless!! I would highly recommend and will definitely he calling them again on our next plumbing need!!