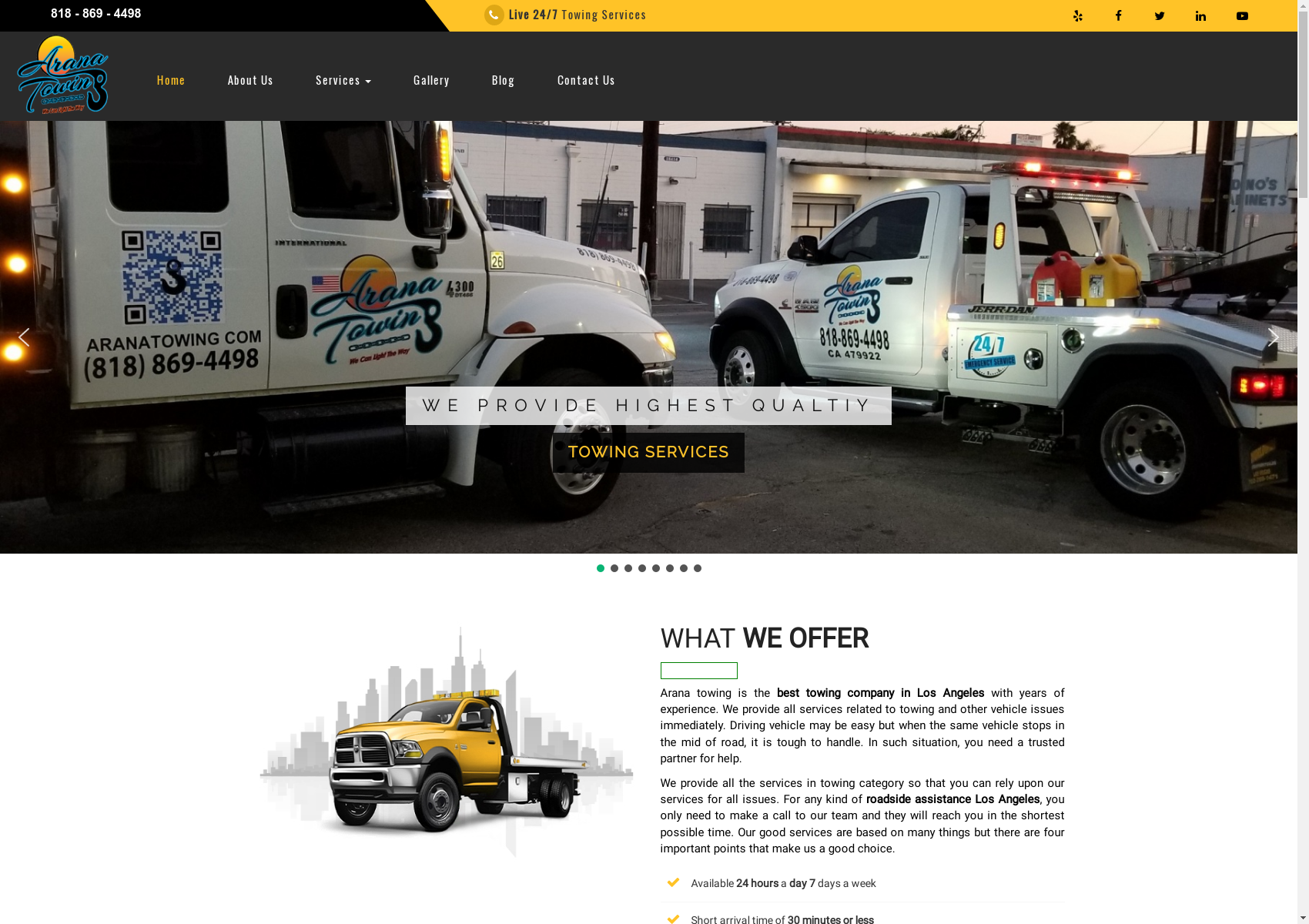 Arana Towing
Verified Pro
Business Hours
Monday - Sunday
18425 Kittridge St unit 206, Los Angeles, CA 91335, United States
aranatowing.com
Contact
Carlos arana M.
18425 Kittridge St unit 206, Los Angeles, CA 91335, United States
aranatowing.com
Arana Towing
Los Angeles
Verified Pro
About Arana Towing
We service the San Fernando Valley Area in Los Angeles with our professional expertise. Our services include but not limited to: accident towing, roadside assistance, winching, jump starts, flatbed towing, wheel lift, lockout services, tire changes, recovery, gas delivery and private property impounds. Our dispatch center is open 24/7 with a live person, never an answering machine or answering service. Our dispatch staff is trained to assess your situation and send you the proper truck in a timely manner. No job is too big, too small or too far for us. Call us today and put our knowledge and experience to work for you.
Locations
18425 Kittridge St unit 206, Los Angeles, CA 91335, United States
3 Reviews for Arana Towing

Richard R.
January 22, 2022
He was here in 15 mins. Cleaned up my trucks battery of corrosion and gave me a jump. I was on the road again in 30 mins. Great guy great attitude

Kimberley A.
November 17, 2021
Was so grateful Carlos showed up with his tow, expertise and friendly disposition. Thankful for good people that provide excellent service. Thank you, Carlos, for your help- fast, professional and friendly.. what else can anyone ask for?

Trish R.
April 5, 2021
Arana towing was fairer in pricing than the top Google result (sorry Google), which is amazing bc Arana Towing is family owned and operated. They came in prepared for, well, everything! Mr. Arana handles even the worst complications for his towing jobs with professionalism and grace. He's reliable, communicative and a very fair man. Also very friendly! Highly recommended all around-- support small businesses!