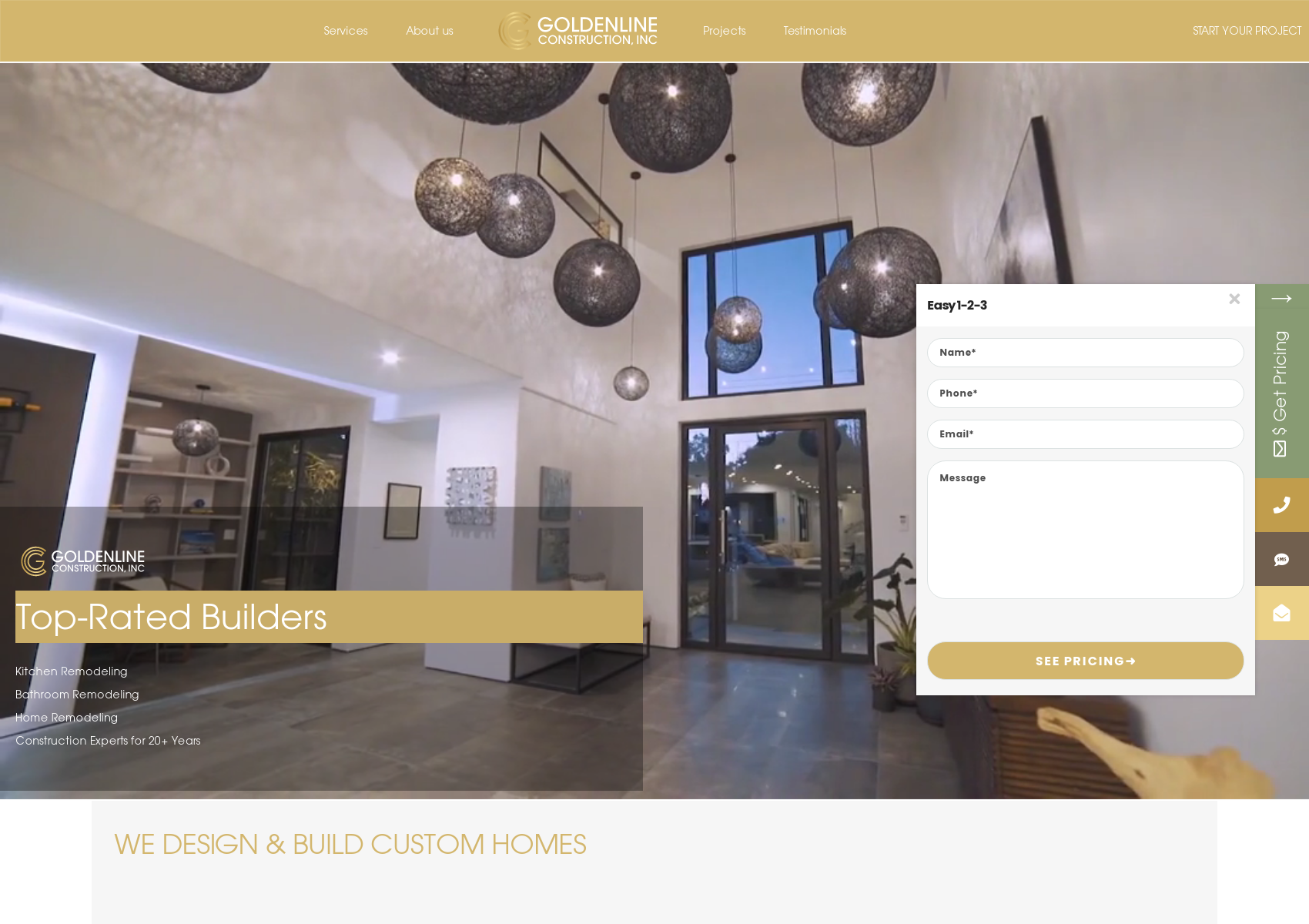 GoldenLine Construction Inc
Verified Pro
GoldenLine Construction Inc
Los Angeles
Verified Pro
About GoldenLine Construction Inc
GoldenLine Construction offers a fully inclusive client-focused construction management experience. We specialize in kitchen, bathroom & full home remodeling, room additions, ADU garage conversions, home design services & MORE. Our project minimum starts at $10,000 and we do not accommodate any Handyman type services or repairs. We provide FREE no obligation on-site consultations as well as a FREE detailed estimate of your project. With over 20 years of construction experience and over 5,000 outstanding completed projects, we have worked tirelessly to create a reliable and highly respected reputation as well as mastered the ins and outs of the industry. We earn our clients trust by remaining true to our foundation, our capability to suit the varied styles and preferences of our clients, and working together to reach the best possible remodeling outcomes. We offer a unique blend of credibility, professional service from A-Z and exceptional customer service to all of our clients commercial or residential. On each of our projects we have a team of professional craftsmen and experienced project managers to allow a solid workflow that accommodates complete support and communications with our clients. We serve our customers in Los Angeles and surrounding areas.
Locations
6449 Independence Ave, Woodland Hills, CA 91367, United States
Business Hours
Mon - Fri

8:30 AM - 5:00 PM
3 Reviews for GoldenLine Construction Inc

Joyce S.
March 4, 2022
We had a pipe leak and insurance had demo'ed half the bathroom and left so we really needed someone who could help us start right away. I had the pleasure of working with Sagi on our bathroom renovation. He helped us get more money out of insurance with his detailed estimate and then answered every single one of my annoying questions through the process. He advised on design, as I had a specific vision in mind. And when we ran into an issue with the tile installation (they're thicker than normal tiles and we didn't have a transition from tile to wall), he had a great solution that made the wall transition seamlessly to the tile. It looks better than I could have imagined and we lost no time. In fact, our project finished early! I loved the planning that went into the project. We mostly only had to have workers in the house during the first half of the day, which is so much less stressful than having people coming in and out all day. Everything ran so efficiently that it barely felt like we had work done- we just magically had a new bathroom! I highly recommend Sagi and Goldenline. Sagi is so responsive (a rarity in the business), and even on text. The experience was worth every penny.

Danny P
December 19, 2021
Hiring Goldenline Construction was the best thing I could have done. Liron the specialist they sent Came to my house in the first day knew exactly what he was talking about. Took notes, pictures, and listened to my concerns. He's been a part of the process and helped me with all the questions and requests I had during the job and after they finish ! I'm so happy with my complete home remodeling ! High quality, class, and excellent customer service. I recommend them and will definitely go back to them for my future home remodeling! Thank you Liron and Goldenline Construction you did it amazing !

Jackie B.
February 14, 2022
I'm so happy we hired Goldenline Construction to do our bathroom remodel. The project manager, Liron was very friendly and professional. At our first meeting he came took pictures, listened to our needs and wants, and had great ideas as well. Their quality of work matches their reputation and we couldn't be happier. We are looking forward to continue doing business with them