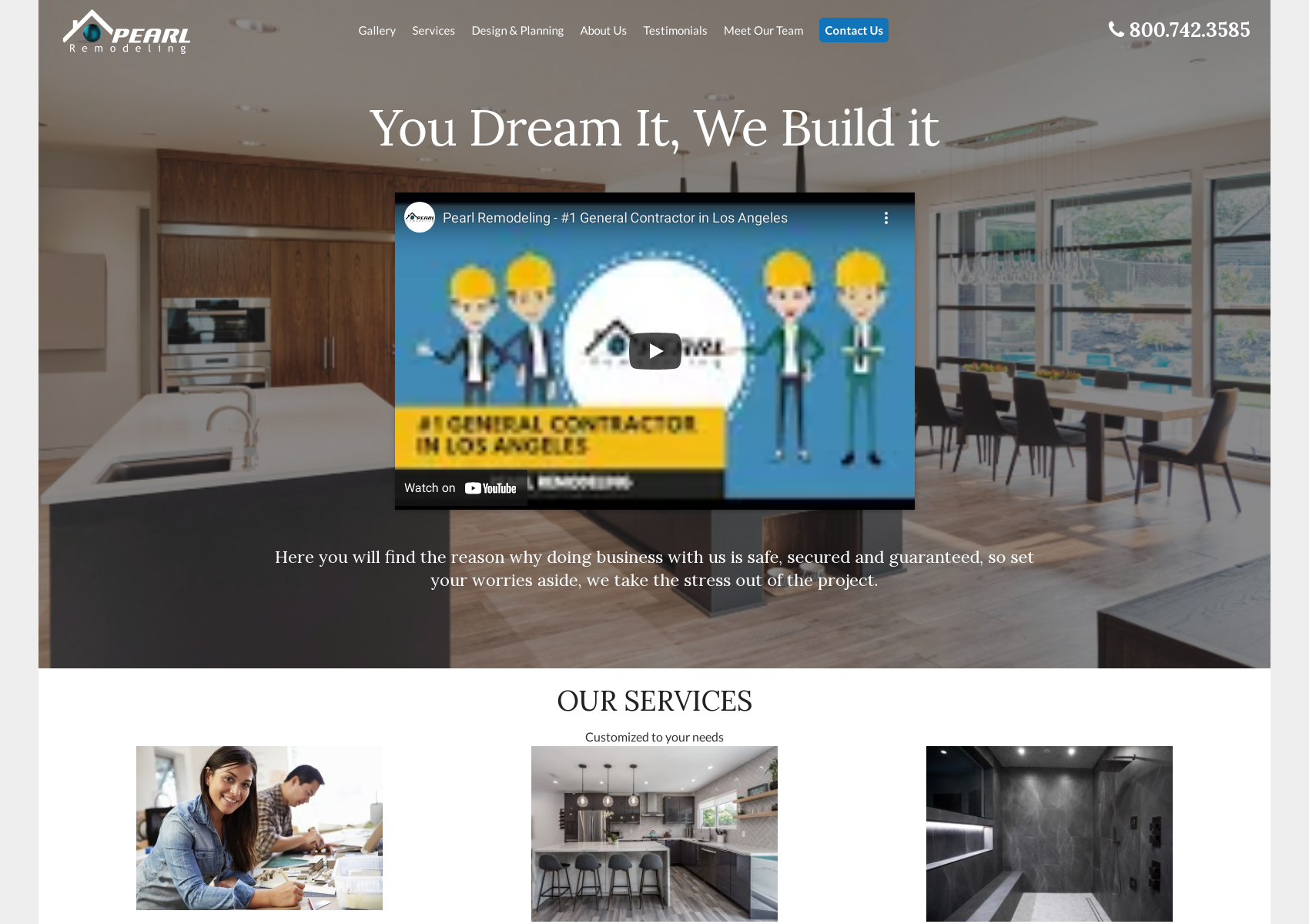 Pearl Remodeling
Verified Pro
Pearl Remodeling
Los Angeles
Verified Pro
About Pearl Remodeling
For many years my cousin and I have worked independently for many major general contracting companies in the area and have made them successful off our good values and hard work ethic. We have turned these companies into multi-million dollar companies from our hard work and for the past 12 years we have performed dozens of kitchen remodeling, bathroom remodeling as well as room additions all over the Los Angeles County. Due to our amazing cooperation and strength we share together, we have decided to join forces and to incorporate into one strong solid company. Right now our mainwork force is comprised with 3 crews and we only use the top rated subcontractors so that we can provide our customer 100% quality, detail and attention to their needs. Through our good quality and service we have accumulated an impressive resume as well as many great references from high-end homeowners in West Hollywood, Studio city, Sherman Oaks, Pacific Palisades, Westwood, Brentwood and Santa Monica areas
Locations
6803 Yarmouth Ave, Reseda, CA 91335, United States
Business Hours
Mon - Fri

8:00 AM - 6:00 PM

Sun

10:00 AM - 4:00 PM
3 Reviews for Pearl Remodeling
I had a great experience working with Izhak and Ami. I had great peace of mind as they were always available and picked up the phone with any concerns I had. They took care of most of the issues and very straightforward with communicating. They also did a great job with the project and have good taste in style!

Jason B.
March 14, 2021
We have done several projects over the years across a few different houses and worked with several contractors along the way. Our experience with Izhak Eskayo and his team at Pearl Remodeling has been by far the best we've ever had. Besides being incredibly friendly, understanding and patient, Izhak was extremely thorough and delivered on the scope of work in terms of timeline and expected/agreed upon cost. We had previously done work on our house purchased in July 2019 and had saved the last phase for last - our kitchen and butler pantry. We were given a timeline from Izhak, based on the design he and his team helped us with, of 8-10 weeks. When work began, there was never a stop or delay. The various groups of workers that came through were all incredibly nice, respectful and adhered to wearing their masks and keeping their distance in the middle of the fall when Covid was peaking. We had a few adjustments along the way, including some design changes, and each time it was no problem for Izhak as he was patient with us, and while we could have delayed the job due to these requests, Izhak was still able to complete the work in only 7 weeks. At the time, and like during any kitchen remodel, we were working with a makeshift kitchen in the garage and were so appreciative to be able to have a functioning kitchen ready to use well before we expected. In the attached before and after pictures, Izhak's design team should also get credit for helping with the layout, the cabinet design, appliance placement and color scheme. Izhak had shown us his portfolio of kitchen remodels and we were able to use some ideas to apply to our concept. We would absolutely recommend requesting Izhak for your next project and we will not use anyone else for any projects we take on in the future. The professionalism of Pearl Remodeling from top to bottom was just really next level.

Albert K.
October 7, 2021
It was a long journey but I'm so happy my full house remodel is finally complete! With his expertise, Avi helped with decision making the whole way through. From the color to the material, we were able to turn an old cottage to a modern sanctuary. Every detail that needed to be corrected were done promptly. If you're looking for a remodeling company, this one is a winner. Thank you!