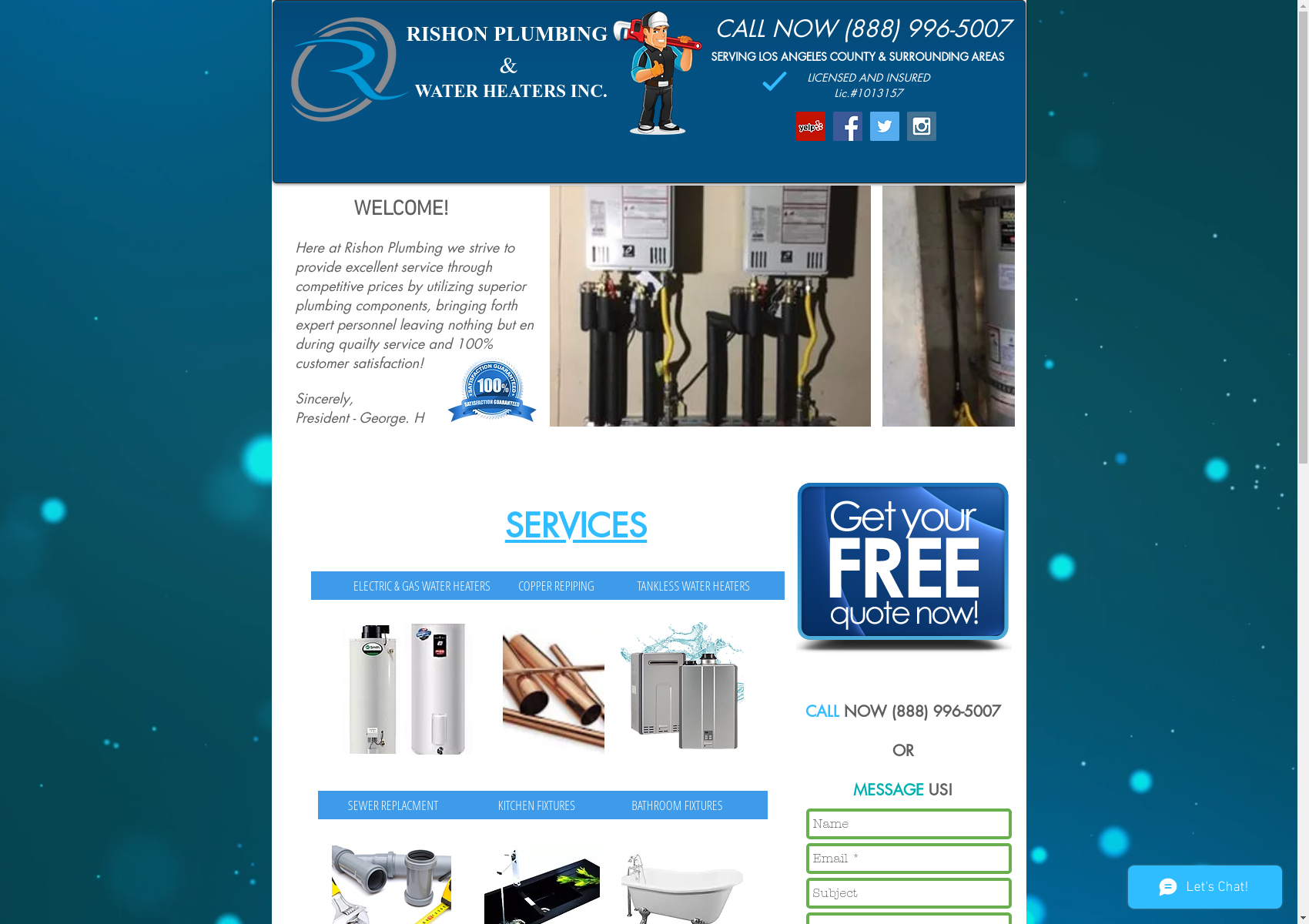 Rishon Plumbing & Water Heaters
Verified Pro
Rishon Plumbing & Water Heaters
Los Angeles
Verified Pro
About Rishon Plumbing & Water Heaters
We specialize in installation/replacement/repair of water heaters. Bathroom and kitchen faucets; garbage disposal, drain and sewer line cleaning.
Established in 2015.
The company consists of honest and professional plumbers whose goal is not to impose or sale services customers don't need but to solve any plumbing problems our customers encounter with reasonable and affordable prices.
Locations
Los Angeles, CA 90064 Rancho Park
Business Hours
Mon - Sat

8am - 6pm

Sun

Closed
4 Reviews for Rishon Plumbing & Water Heaters

Lily R.
Tl;dr Rishon Plumbing is the answer to all your plumbing needs. We are new homeowners and had an unexpected shower drain backup issue that appeared literally overnight. Freaking out, we got a quote from a competitor who told us it would be $5500, they would have to tear up our ceiling, and even then, that might not fix the problem. Commence panic. Enter George - he came over and within 10 minutes told us that we didn't need to go through the ceiling but rather just clean out a simple screen. The other plumbers knew this and we're just clearly just trying to take us for a ride. George & Rishon plumbing are trustworthy, reliable, and they were almost able to diagnose the problem over the phone. George is now in our phones as our go-to plumber and we feel like we made a new friend. Can't recommend enough!

Dave J.
Flawless service from George and his team: Promptly responded to my Yelp inquiry Beat the price of two other well-reviewed water heater companies Happy to install a heater that I purchased (many companies prefer to sell you one) Squeezed me in a few days later after I needed to reschedule Showed up on time Finished in less than four hours Charged exactly what they estimated Friendly service Satisfied customer

Mani S.
100% impeccable service and extremely honest, during the severe evening LA rain, our water heater flooded on the bottom and was making noises/vibrating, out of options, we called this business, and the expert on the line asked for our model and walked us through fixing the problem ourselves without even talking about pricing. Amazing company.

Artin B.
Did a wonderful job. Very smart and caring. Would recommend them to anyone and everyone. He replaced a water heater very quickly.