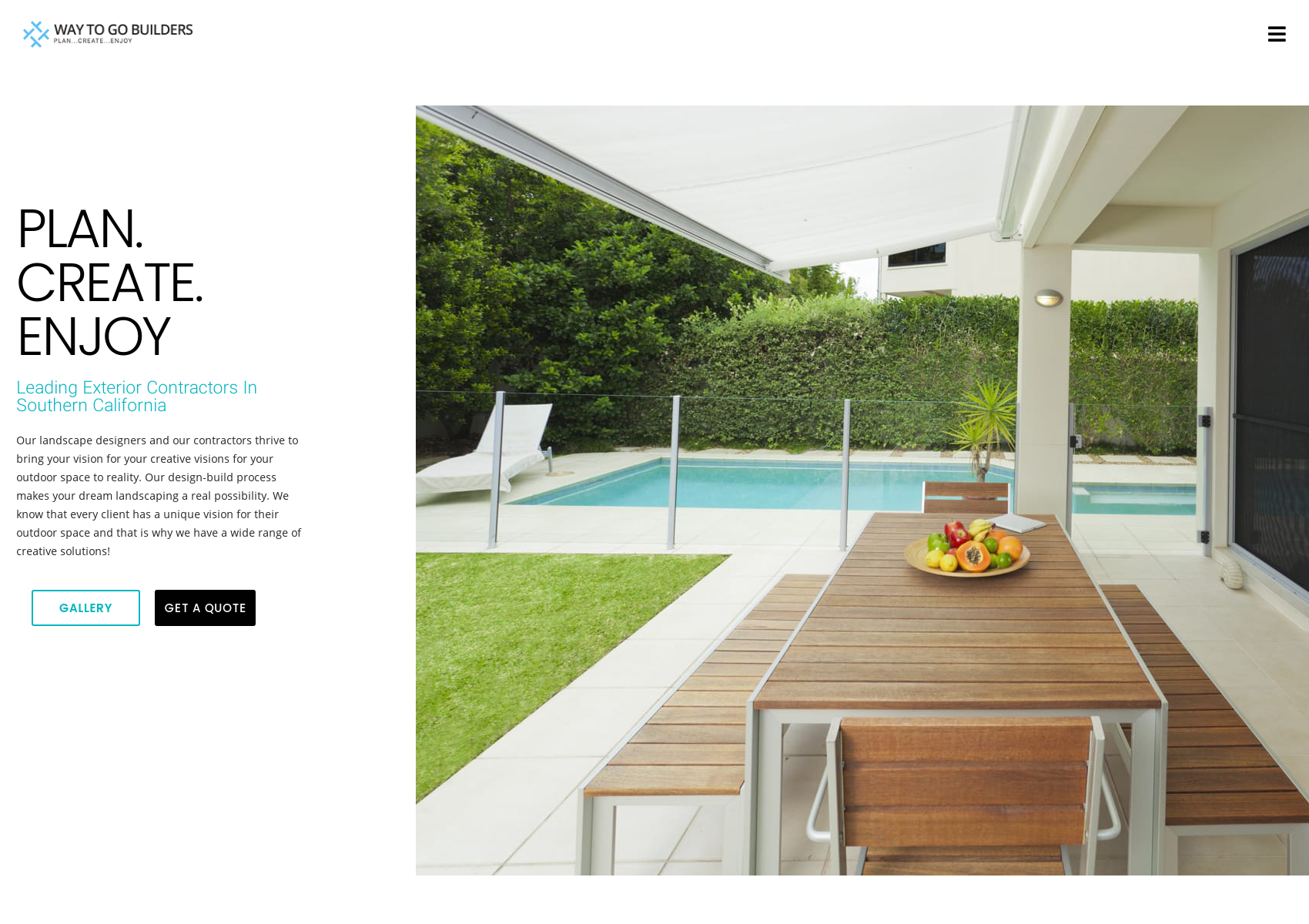 Way To Go Builders, Inc
Verified Pro
Business Hours
Monday - Sunday
6303 Owensmouth Ave 10th Floor, Woodland Hills, CA 91367, United States
www.waytogobuilders.com
Contact
Jonathan E.
6303 Owensmouth Ave 10th Floor, Woodland Hills, CA 91367, United States
www.waytogobuilders.com
Way To Go Builders, Inc
Los Angeles
Verified Pro
About Way To Go Builders, Inc
The company was founded by licensed contractors Jonathan E. and Daniel S. who have been professionally trained and certified. Way to go builders designs and renovates yards. Transforming yards into beautiful entertainment areas, and more! We take pride in our work and strive to be the best.
Locations
6303 Owensmouth Ave 10th Floor, Woodland Hills, CA 91367, United States
Business Hours
Mon - Fri

9:00 AM - 7:00 PM

Sat

10:00 AM - 6:00 PM

Sun

10:00 AM - 3:00 PM
3 Reviews for Way To Go Builders, Inc

Anthony A.
Jonathan and Ben are amazing at making your dreams come to life. They fully redid my backyard. We added a new deck, a patio cover, a huge pool and a gorgeous tree deck for the pool. Their workers were so efficient and hard working that parts of the project flew by quickly. We had to wait for permits of course and the city always drags their feet. Once the permits were ready, the project moved along. The deck they created with trex extended our living area out into the backyard. Their craftsmanship was very impressive. They did a great job with the pool as well. I'm extremely happy with their work. If there were any issues or problem, Jonathan or Ben were just a text away. Unlike other contractors, they are extremely responsive and very professional. They are the Nordstrom of backyard contractors. Excellent service.

Robert V.
August 2, 2021
Way To Go Builders stand by their work. Way To Go Builders installed 500 square feet of pavers in our backyard. I noticed some of the pavers needed rework, I called Ron and sent him pictures of the pavers in question. Without question Ron send his crew on a Saturday to restore the pavers. Way To Go Builders are my go to team for pavers and masonry work!!

Mike A.
December 17, 2020
If you're considering this company, hire this company. They're great! I found them via Yelp as I was searching for someone to help me replace an old brick patio in my backyard. I had an on-site appointment in a couple of days from my first outreach, and my project manager Nir came out to talk through the job. What started as just a replacement of the 20' x 20' brick patio turned into a job about twice the size, mostly because I really just liked how easy and efficient it was to work with Nir. He really did a great job of keeping me fully informed, he was (and is) highly communicative via text, and overall just kept me feeling confident that WTGB was the right choice for me. (For reference, I had two other concrete/masonry companies give me quotes, and Way To Go fell right in between the two estimates) As for the work itself, it was scheduled within a few days of me signing the work estimate, and the crew arrived promptly on the day they were scheduled. The job ended promptly on the day it was scheduled. Everyone was professional and the patio turned out exactly as I had expected. Promptly. Because why not, I may as well say it again. After the job was done, they came back to clean up the remaining debris and to put everything back the way it was. Some contractors leave a sloppy mess behind...not these guys. It literally looks like they were never here and this brand new patio just fell from the sky. Job very well done! Having worked with many contractors over multiple house remodels, I am really happy to have found Way To Go and I will definitely be working with them more in the future. Nir and I have already begun discussing my next couple of projects!